Texas County – Missouri Highway Patrol
Texas County – where the fines for fixing your ticket are Texas sized!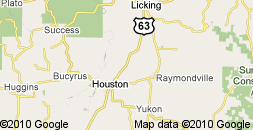 Court Information
519 N. Grand Ave., Suite 203
Houston, MO 65483
417-967-3663
Texas County – Missouri Highway Patrol Website
Speeding Ticket Information
Texas County will amend your speeding tickets to either a no-point speed or a Defective Equipment for a fine between $158.00 and $258.00.  A no-point speed is exactly as it sounds – it has no points but is reported to the Department of Revenue.  A Defective Equipment is non-moving and will not be reported to the Department of Revenue and not be on your record.  In most speeding ticket cases, my fee is $135.00 for Texas County
Court
Texas County generally has Court on Wednesday mornings.
Texas County Information
Texas County, largest of Missouri's 114 counties, comprises 1179 square miles of Ozark Highland.  With the same name as the second largest of the fifty states, it exceeds the smallest, Rhode Island.
When formed in 1843, it was named for the first lieutenant governor of Missouri, William H. Ashley, but when formally organized on February 14, 1845, it was renamed for the Republic of Texas.