Hamilton Missouri Municipal Court
I can help you with your Hamilton Municipal Court speeding tickets.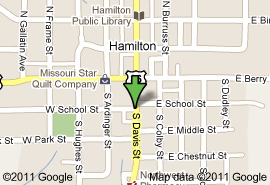 Court Information
200 S. Davis
Hamilton MO 64644
816-583-4911
General Information:
Hamilton Municipal Court will generally amend a ticket to a defective equipment. A defective equipment is a non-moving violation that will not appear on your driving record and will result in no points on your record.
Most speeding tickets do not require a court appearance unless you were caught going sixteen miles or more over the speed limit.
Costs:
A defective equipment will cost you between $202.50. My charge for Hamilton Municipal Court is $150 per ticket. We accept checks, cash or credit cards.  Please call at 816-399-5241 or request a detailed quote on having that Hamilton Municipal Court speeding ticket off of your record.
Court Schedule:
Hamilton Municipal Court holds court on Wednesday evenings.
City of Hamilton
Hamilton is a city in Caldwell County Missouri with a population of 1813.  Notable natives of the city of Hamilton include James Cash Penny, founder of J.C. Penny and Zach Wheat, a baseball player in the National Baseball Hall of Fame.