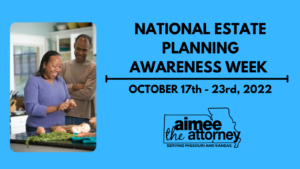 When putting together your estate plan, some simple oversights can lead to some pretty big issues for you and your family. Everyone should have an estate plan no matter how much money they have, whether they own property or not, and even if they have kids. An estate plan makes your wishes clear when you die or are incapacitated. During your estate planning, you will make choices like who you want to decide for you in case you no longer can. Some issues people don't think about when doing their estate planning are; thinking you only need the legal documents, failing to finalize asset integration, not telling the people who are named in your plan that they are in your plan, not reviewing the plan regularly, and finding the wrong attorney to help you. Let's figure out how to avoid these. 
The first three on the list are relatively intertwined. If you ensure that what the legal documents say matches up with the assets you have named in the plan, then there isn't a big issue. Doing this ensures no conflicts and that your property goes where and to who you want. Another essential task is telling the people you have named in your plan that they are in the plan. You can't expect them to know how to handle your things and make your decisions on your behalf if they weren't aware that it was their job in the first place. It is also essential to ensure they know what is in your plan. There are instances where certain obstacles can make it challenging to retrieve legal documents. However, if they know what you want, it will be easier for them to decide for you quickly. 
The following two things are critical in ensuring your plan stays updated with your needs and wants. Things change as life progresses, and you might not feel the way you did when you first made your estate plan. There can also be changes to the law that will affect your plan, which is why you should always go back and review it regularly. To make sure you are always well prepared, you need to make sure you also have a lawyer that makes preparation an essential part of your Estate Planning. If your attorney doesn't have an excellent system to keep them on track, how can they help keep you on track? Make sure you research the lawyer you are having to help you do your estate planning, and don't be afraid to change lawyers if they are not meeting your expectations. 
It can all seem overwhelming when you don't know much about estate planning. This is just a small list of things to know before starting your estate planning journey. Fortunately, if you have a good lawyer, they should be able to help you avoid these issues. Estate planning is not just for the wealthy or for people with kids. Estate planning can give you peace of mind that your affairs are in order when something happens to you. The biggest thing to remember is that EVERYONE can benefit from having an estate plan.