Morgan County Missouri – Missouri Highway Patrol
Morgan County – they love to hand out tickets to people on their way to the Lake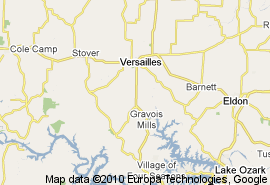 Court Information
211 E. Newton St.
Versailles MO 65084
573-378-4060
Morgan County Missouri – Missouri Highway Patrol Website
Speeding Ticket
Morgan County is located near Versailles Missouri and is a county near the Lake of the Ozarks and a well traveled route to the Lake.  The Prosecutor will amend your ticket to either a No Point Speed or a Defective Equipment, anywhere from $200 to $500.  My fee is generally $140.00.
General Information
Morgan County was organized January 5, 1833 and was named for Daniel Morgan, a Revolutionary War general.  The County consists of 594 square miles and has an approximate population of 20,000.  The County seat of Morgan County is the town of Versailles, population 2565.
Bud Walton, co-founder of Wal-Mart, heralds from Morgan County.
The Chamber of Commerce hosts an Old Fashion Apple Festival every year and is slated for October 2 this year.