Liberty Municipal Court
Liberty & Justice for all in the gorgeous Kansas City suburb.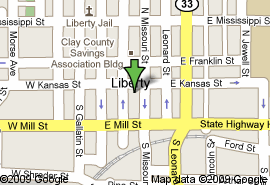 Court Information
101 E. Kansas St.
Liberty, Missouri 64068
816-439-4431
Liberty Municipal Court Website

General Information
Liberty Municipal Court is hospitable to speeders.  They will amend your speeding ticket to a non-moving violation (a Defective Equipment) for anywhere between $200 and $300.  Our fee is $140.
Liberty is alive with the sound of the future under construction. What began as a frontier trading post on the Missouri River in 1822 has blossomed into a thriving center of commerce and cultural activity
As for cultural life, Liberty has it all. Residents enjoy many attractions – a symphony orchestra; civic theater; annual spring and fall festivals; three historical museums; the Clay County Archives; William Jewell College's Fine Arts Program; an extensive public library; 100 civic, fraternal, social, professional, veterans and youth organizations; and a 50,000-square-foot multi-purpose community center offering year-round swimming, physical activity areas, community meeting rooms, and a performing arts theater.