Lake Tapawingo Municipal Court
Lake Tapawingo – First courthouse held in a clubhouse!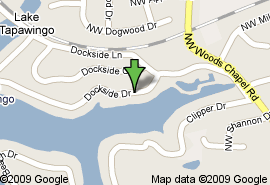 Court Information
244 Dockside Dr.
Lake Tapawingo MO 64015
816-224-6645
Lake Tapawingo Municipal Court Website
General Information:
The Lake Tapawingo  Prosecutors are friendly and fair. They will generally amend your speeding ticket to a defective equipment. The defective is a non-moving violation and will not be reported to the Department of Revenue – thereby not affecting your points status or your insurance.
Most speeding tickets do not require a court appearance unless you were caught going over twenty-five miles over the speed limit.
Speeding Ticket Information
Lake Tapawingo will amned your speeding ticket to a Defective Equipment for a fines between $175 and $300, depending on your speed.  My fee starts at $185.00.
Court Schedule
Lake Tapawingo meets on the first and third Thursday of the month.
General Information about Lake Tapawingo
Move here – The median income for a household in the city was $73,500, and the median income for a family was $77,493.