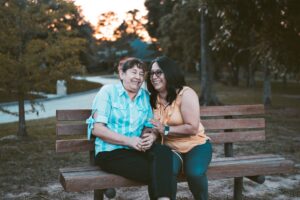 Rose's mother, Kathy, has gotten to the point where she really shouldn't be living alone, but is not in need of constant care. Rose decides to look into assisted living facilities and has narrowed her search down to two different places, Tallgrass Creek in Overland Park Kansas and St. Anthony's in Kansas City. The major difference between the two is how payment works. St. Anthony's has apartments for independent living that can cost anywhere from $3,000 to $4,000 a month. This price would include rent, utilities, food, and anything else she might need. Now Rose is unsure if her mom would be okay living in a community without help, or if she would need some assistance with day to day living. So she looks at St. Anthony's options for assisted living. These apartments are anywhere from $4,600- $5,750. This price includes her rent, utilities, food, and her assistance care. Another cost that they would have to pay is a $2,500 community fee. This fee is only a one-time payment and is nonrefundable. St. Anthony's also has transportation services in case Kathy has a doctor's appointment that she needs to go to. Another feature of St. Anthony's is that they have licensed nurses, medication management services, and caregivers on-site.
In comparison, Tallgrass Creek has a bit of a different payment system. Tallgrass Creek has variations of sizes for their apartments. They require a 90% refundable entrance deposit. This refundable fee would be given back to you if you were to leave the community at any time. The price of the entrance deposit is dependent on the size of the apartment. A Large one bed with one and half bathrooms is between $176,000-$275,000. An apartment this size has a monthly service package that would cost between $2,300 and $3,000. These prices go up as the size and luxury go up. The top price for the entrance fee is $718,000 with a monthly package of $4,200. The monthly service package includes rent, utilities, food, and other amenities. The price is also dependent on the level of care that is needed, including assisted, memory, or long term. Tallgrass Creek has an onsite medical facility with licensed doctors and nurses 24/7 to help with any and all care needed. 
Rose is well informed on both facilities and wants to talk with her mom about what she might prefer and what they can afford. Both facilities have great features that would make for a great place to live. Rose and Kathy are excited for what the future will bring for Kathy's living situation.