Pleasant Valley Municipal Court
An easy Court to maneuver with a speeding ticket. The prices are moderate and you won't have to appear.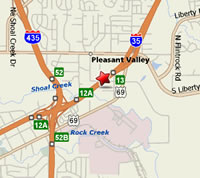 Court Information
6502 Royal St.
Pleasant Valley MO 64068
816-792-4812
Pleasant Valley Municipal Court Website
General Information:
The Prosecutor in Pleasant Valley lives up to his name. He is friendly and will generally give speeders a defective equipment which is a non-moving violation and will not be reported to the Department of Revenue.
Most speeding tickets do not require a court appearance unless you were caught going over twenty-five miles over the speed limit.
Costs:
A defective equipment will cost you between $175.00 and $275.00. My charge for Pleasant Valley is $150 per ticket. You will be able to pay in cash or through PayPal. All money for fines and my fee must be paid upfront. For more information on how the process works, please go to About Us.
Court Schedule:
Court is Monday night in Pleasant Valley.
General Please Valley Information:
Pleasant Valley, Missouri, in Clay county, is 9 miles NW of Independence, Missouri (center to center) and 9 miles NE of Kansas City, Missouri. Part of the surrounding Kansas City metro area, the city is not an isolated city. Pleasant Valley is home to some 3,321 residents.
According to the 2000 census, 67% of the housing in Pleasant Valley was owner-occupied. On average, homes in the city have gone up relatively recently. If you want a nice house, or any home in a nice city, you usually need to pay higher property taxes. It's no different here.