Oak Grove Municipal Court in Oak Grove Missouri
Oak Grove Municipal Court handles speeding tickets issued in Oak Grove Misouri.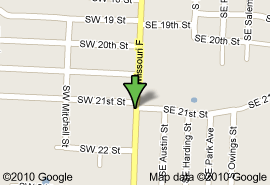 Court Information
2100 S. Broadway
Oak Grove MO 64075
816-690-3773 ext 1500
Oak Grove Municipal Court in Oak Grove Missouri Website
General Court Information
The Oak Grove Missouri Municipal Court handles tickets written by the Oak Grove Police Department which include speeding tickets, Driving While Suspended and Driving Under the Influence as well as stealing, assault and trespassing.
Oak Grove holds courts on the last Wednesday of every month at 6:30 p.m.
Speeding Ticket Information
Oak Grove will amend tickets to a Defective Equipment (non-moving violation) for $200 to $300 depending on your speed.  My fee is $150 for Oak Grove.
Oak Grove History
Oak Grove is part of Jackson County.  The former settlement of Lickskillet was incorporated in 1881 as Oak Grove. Back then, it consisted of approximately 40 acres with a population of 280. Today, the Oak Grove City limits have expanded to include over 3200 acres (5 square miles) of land and encompass parts of Lafayette County as well as Jackson County. The 2000 Census lists a city population of 5,535. However, since then several new housing developments have been built and others are in the planning stages.